Wednesday Addams was the tween daughter in the Addams Family cartoons, 60s TV series and 90s movies. She has become a goth icon over the years.
Adult Wednesday Addams was a very funny YouTube series created by Melissa Hunter. At least it was until Charles Addams' litigious heirs forced YouTube to take it down in April 2015. Boo!
Very Adult Wednesday Addams is a Burning Angel porn parody series. That's right, a porn parody of a non-porn parody. And by the quirks of modern copyright law, the porn parody enjoys clear protection while the non-porn parody gets crushed. Boo!
The Burning Angel version, directed by the great Joanna Angel, launched last month with …
Very Adult Wednesday Addams: Episode 1, Afterparty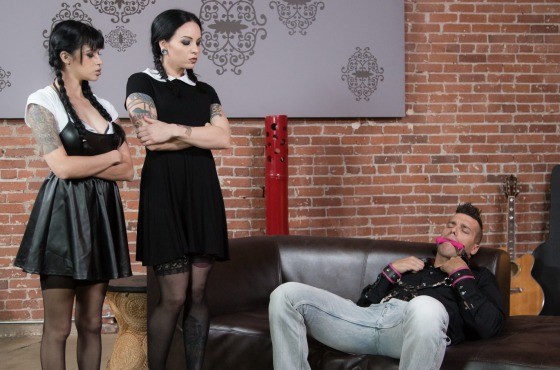 In the premiere, Necro Nicki and Judas star as Wednesday Addams and girlfriend Tuesday, who pick up swarthy party promoter Ramon outside a club.
Trailer | Video Clip | Photo Gallery | Behind the Scenes
And now they're back with …
Very Adult Wednesday Addams: Episode 2, One Night Stand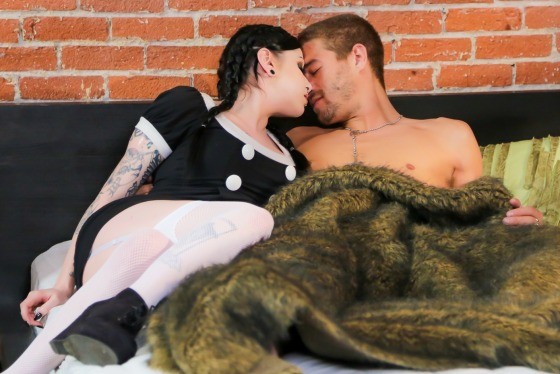 Ophelia Rain takes over the title role in episode 2. "Our gorgeously creepy braided goth girl had a one night fuck session with Xander Corvus — and he was hooked."
Trailer | Photo Gallery | Video Clip
We're still immensely peeved that the outstanding Adult Wednesday Addams series got yanked off YouTube. That show's creators probably have a solid case for fair use, but having a solid case and being able to afford lawyers to make that case are two different things.
There have been at least three earlier Addams Family porn spoofs.
Rodney Moore directed The Addams Family XXX in 2011 for Exquisite, featuring Brandy Aniston as Wednesday and Nina Hartley as Grandmamma.
Back in 1991, when the first Addams Family movie came out, two studios made XXX knockoffs. Kim Alexis played "Tuesday" in The Maddam's Family, which also featured Ron Jeremy as Uncle Fester.
Meanwhile, arty parody director William Black made The Anus Family, starring Courtney (aka Natasha Kinzski or Nasty Natasha) as a blonde-pigtailed Wednesday. Ron Jeremy made an appearance in this one too, as "the Sex Thing".