The porn parody craze might be slowing down a tad in 2015, but several high-profile projects are in the works. Look for these sometime in the second half of the year.
Gnardians of the Galaxy
Directed by Lee Roy Myers
WoodRocket has already posted three scenes from this Guardians of the Galaxy XXX spoof: part one (green body paint!), part two (blue body paint!), part three (Groot/Avengers crossover!).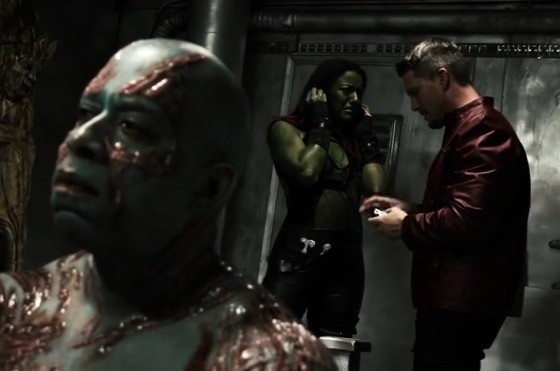 Plot premise: "When Star Load, Gamwhora, Crax, Rocket Raccooch, and Groin find themselves in a tight spot, this horny group of rag-tag superheroes team up to protect the universe from evil-doer, Bonin, and her lust for the power of the Infinity Bone."
WoodRocket promises a high-quality DVD/download version available later this year.
Straight Outta Compton XXX
Directed by Will Ryder
The Hollywood biopic Straight Outta Compton, starring Ice Cube's son as Ice Cube, hits theaters in August. The porn parody version has been in the works for months and should be ready for a coattail-riding simultaneous release.
Back in March, X-Play announced a casting call for pornstars to play young versions of Ice Cube, Eazy E, Dr. Dre, MC Ren, Tupac Shakur, Snoop Dogg, Jerry Heller and Suge Knight.
Will Ryder has made several fine musical porn parodies, including Not Jersey Boys XXX, Grease XXX and Not the Wizard of Oz XXX. About the NWA project, Ryder says, "If we don't nail the hip-hop and show a lot about how it's being created in the studio, we would be remiss and it won't be a good parody biopic. So music will be a huge cornerstone of this."
The Empire Strikes Back XXX
Directed by Axel Braun
Axel Braun's excellent 2012 Star Wars XXX swept the industry's Best Parody awards for that year. He had talked about making porn parodies of the whole (original) trilogy, but somehow that never panned out. Until now.
With the new JJ Abrams Star Wars: Episode VII slated for world domination in December 2015, Axel Braun apparently decided the time was right for his own sequel. Wicked Pictures announced an open casting call last month for a XXX version of The Empire Strikes Back. Hooray!
Nice to see the big three — Myers, Ryder, Braun — are still going strong.