The Brady Bunch aired from 1969 to 1974, but it remains a cultural touchstone. The modern porn parody craze really took off with Will Ryder's 2007 Not the Bradys XXX, which spawned four sequels.
Now Jim Powers brings us a new sort of Brady Bunch porn parody with The Tranny Bunch. It's exactly what it sounds like — all five female roles are played by transgender pornstars.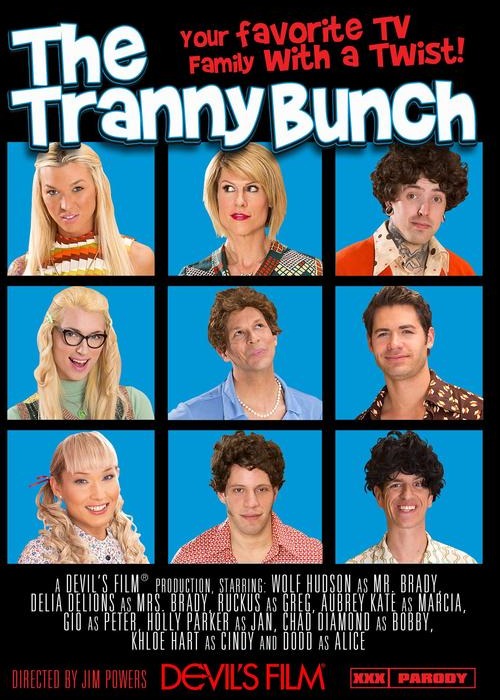 Jim Powers always does a great job with visual style and campy humor on super low budgets. In The Tranny Bunch he has fun recreating those wholesomely groovy 70s decor, fashions and hairstyles.
Click through to our Porn Parody Store & Theatre to watch the (relatively soft) trailer, which includes a playful version of the famous tic-tac-toe board Brady Bunch credits.
Here's the cast breakdown:
Wolf Hudson as Mike Brady
Delia Delions as Carole Brady
Aubrey Kate as Marcia
Ruckus as Greg
Holly Parker as Jan
Gio as Peter
Khloe Hart as Cindy
Chad Diamond as Bobby
Dodd as Alice
Delia Delions is a great porn name. Buy me a gin fizz, luv!