Anastasia Pierce continues her prolific output of superhero BDSM cosplay porn parodies. The latest DVD release is entitled Wonder Woman! With Miss America And Power Girl.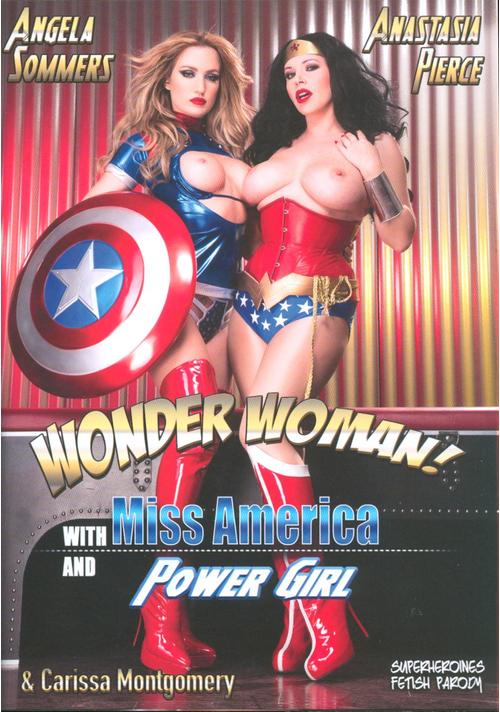 This release collects two 30+-minute vignettes:
Wonder Woman & Power Girl vs Catwoman
Anastasia Pierce plays both Wonder Woman and Catwoman, while Carissa Montgomery stars as Power Girl. The excitable ASP blurb explains Catwoman's fiendish plot, which like many "superheroine in peril" flicks involves mind control:
Wonder Woman and Power Girl wake up trapped in a steel room. Catwoman has captured them and is keeping them on locked up so she can go rob Central Bank without being stopped.

Not only has Catwoman threatened to bomb the city if they don't comply, she is also pumping a special type of gas into their steel cell to keep them under control.

The pink gas is one of her evil inventions! A new kind of mind altering gas: a mix of MDMA, euphoric gas, mind and power altering. Nothing our super-heroine in distress will be able to resist!!

Quickly Wonder Woman and Power Girl find themselves doing the unthinkable to save the city, kissing, fondling, undressing each other, rubbing their wet pantyhose crotch together to ecstasy and also, using some of the devices left behind by the super villain Catwoman.
Those devices include a strap-on, a double dildo and a fucking machine. Remember, they're doing all this kinky shit to SAVE THE CITY! They're heroines! Hot, hot, hot.
Wonder Woman vs Miss America: Neutralizing the Clone
Anastasia Pierce again plays Wonder Woman, while Angela Sommers plays Miss America.
Miss America was an actual superheroine created in 1943 by Timely Comics (soon to be renamed Marvel Comics). Wikipedia notes that "she was a member of Timely's superhero team the All-Winners Squad, fighting alongside Captain America and Bucky, the original Human Torch and Toro, the Sub-Mariner, and the Whizzer in the group's two Golden Age adventures".
In this XXX version, Miss America basically looks like a female Captain America complete with his trademark shield. Her 1940s comic book costume looked quite different.
The plot here involves Miss America capturing an evil clone of Wonder Woman and attempting, with the help of henchwoman Wolverine the Beast, to bring the WW clone back to the side of truth and justice. The fucking machine makes another appearance, and lots more kinky sex ensues.
Watch Wonder Woman! With Miss America And Power Girl at our Porn Parody Store.