The fine folks at Alpha Blue Archives continue to seek out, restore and reissue early porn that would otherwise be lost to the ages.
Their latest discovery is The Godmother, a long-lost 1972 porn parody of The Godfather.
The film stars Tina Smith ("whose heavy tits defy the laws of gravity!" according to Alpha Blue's breathless copywriter; left on the poster) and Ann Ali ("voluptuous print model" of Indian-American ethnicity; right on the poster) as streetwise badass babes who team up to take revenge on the drug dealer who killed their friend.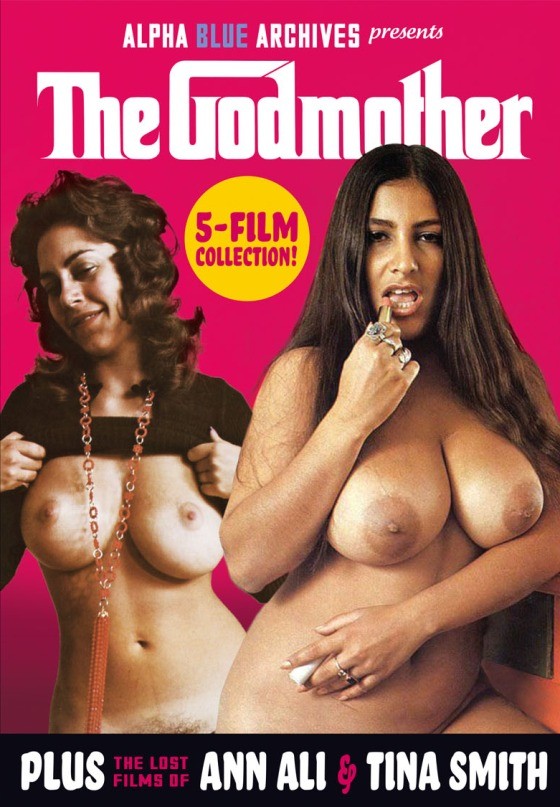 The Alpha Blue Archives release also includes four other films of varying lengths.
The Tattooed Lady (1977, 36 minutes), starring Tina Smith and Christine De Schaffer.
All American Hustler (1976, 65 minutes), also starring Tina Smith. Alpha Blue calls this one "classic downbeat XXX psycho-erotica".
Big Breast Orgy and Big Breast Orgy 2 (1972, total 24 minutes) starring Candy Samples, Ann Ali, Tina Smith, Uschi Digard, Marsha Jordan, Keli Stewart. "Absolutely GORGEOUS new digitally re-mastered upgrade to the all-time-classic big-tit loops transferred from the original negatives!"
The Godmother Plus The Lost Films Of Ann Ali and Tina Smith is available on DVD, streaming and download at GameLink.