The huge Avengers sequel hits theaters in a week. Maybe you've heard something about that. In the best coattail-grabbing porn tradition, Vivid has released its own The Avengers 2 XXX: An Axel Braun Parody ahead of the mainstream release. Superhero porn parody sensei Axel Braun shot this film a couple years ago, and Vivid kept it on the shelf until the timing was just exactly perfect.
There are two place to watch The Avengers 2 XXX: (1) inside the Vivid membership area, or (2) on DVD and video-on-demand in our store.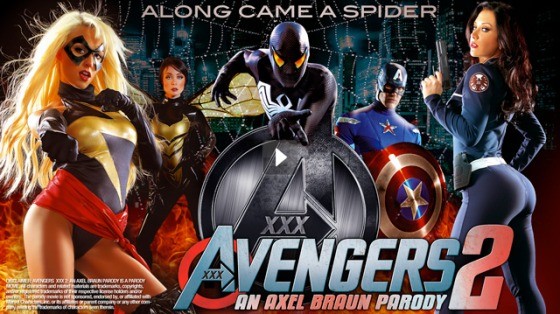 The porn parody plot bears little relation to the mainstream plot, and the Avengers line-up is quite different too. The official Vivid blurb says, "In this new sexy spoof, the superhero team splits into groups in order to battle a creature known as Onslaught and find a toxic chemical inside Hydra's secret base. But their biggest challenge will be battling one of their own, transformed into an evil version of himself. Just when they thought they were safe … along came a spider!" Sounds like elements of Captain America 2 and Spider-Man 3 in there.
Hey, check out the YouTube trailer!
[Or not … YouTube has already banned it.]
Axel Braun raves, "This is just an awesome movie, and not just because I directed it! It's a fairly complex story, but it unfolds very fluidly while still allowing plenty of action and character development so the viewer can suspend disbelief."
The cast and character breakdown:
Penny Pax (as Mockingbird)
Zoe Voss (as Wasp)
Rikki Six (as Ms. Marvel)
Jayden Jaymes (as Maria Hill)
Juelz Ventura (as Viper)
Eva Karera (as Red Guardian)
Xander Corvus (as Spider-Man)
Lexington Steele (as Nick Fury)
Josh Rivers (as Captain America)
Eric Masterson (as Hawkeye)
Seth Gamble (as Winter Soldier)
So no Iron Man, no Hulk, no Thor, which is a bit disappointing.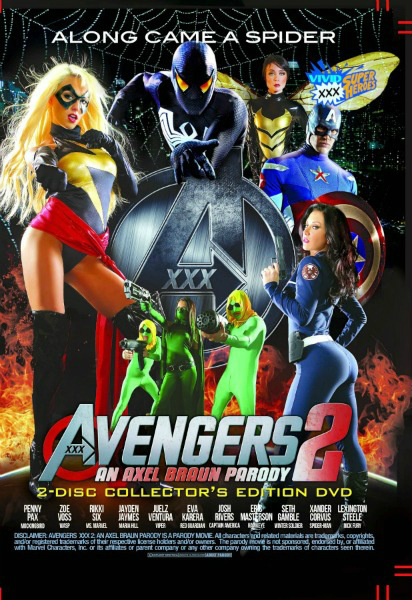 Hollywood will be making a Ms. Marvel movie, slated for holiday season 2018. As usual, porn is way ahead of the mainstream industry in giving female superheroes equal opportunity to kick ass.
If you need a refresher before watching the sequel, you can check out Avengers XXX: A Porn Parody (2012) in our online theatre.