Anastasia Pierce Productions has released another hot superheroines-in-peril fetish cosplay porn parody: Wonder Woman vs Poison Ivy. Hooray!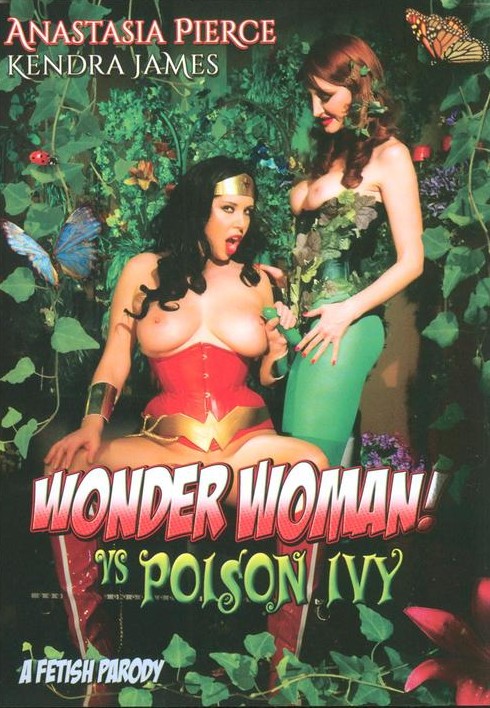 This release collects three scenes, each starring Anastasia Pierce as Wonder Woman.
Wonder Woman vs Poison Ivy: Helpless and Drained of Life (33 minutes) Poison Ivy (Kendra James) imprisons Wonder Woman in her greenhouse of doom and taunts her with a bright green strap-on.
Diana Prince/Wonder Woman: Special Delivery (20 minutes) Diana receives a package containing a mysterious necklace, which she immediately puts on, which casts a mind-control spell forcing her to put on the WW costume and masturbate furiously.
Batgirl vs Wonder Woman: Concrete Disposal (12 minutes) Batgirl (Kendra James again) disables Wonder Woman by encasing her feet in cement. Wait a sec, aren't Batgirl and Wonder Woman usually on the same side? Whatever, try not to think too hard and just enjoy watching WW try to wriggle free.
Zowie, I'm loving these APP cosplay releases.
Watch Wonder Woman vs Poison Ivy now on DVD or video-on-demand.
Previously from Anastasia Pierce Productions:
Wonder Woman: A Fetish Parody
Scarlet Witch vs Black Widow and Batwoman
The Black Cat vs Batwoman
Scarlet Witch vs Ms. Marvel and Spider-Woman