Evil Angel presents new release Screwing Wall Street:The Arrangement Finders IPO. This movie is partly a porn parody of Wall Street and Wolf of Wall Street, partly a showcase for brand new porn starlet Veronica Vain.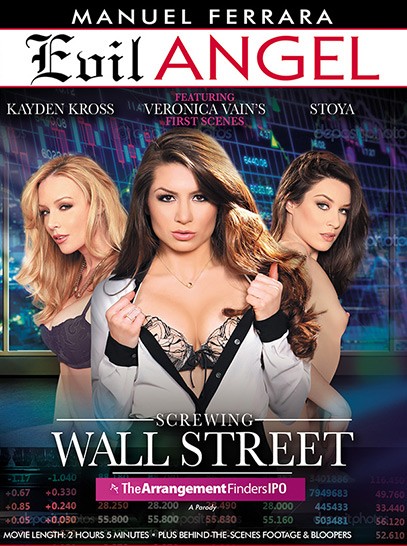 Also starring Kayden Kross and Stoya. Directed by and co-starring Manuel Ferrara.
Last year Belle Knox, aka "the Duke University porn star", was a huge story. Veronica Vain seems to be trying to capture similar buzz by billing herself as "the Wall Street porn star". The nickname refers to the fact that she once did an unpaid internship at a Wall Street firm. As porn gimmicks go, it's not bad, but it's a stretch to claim that she "famously ditched her financial career for porn".
Vain even followed Belle Knox's lead by penning a column for xojane entitled "I am the Wall Street Porn Star, and This is My Untold Story". If people who boast about their "significantly above average SAT scores" get you all hot and bothered, you'll definitely want to check out her XXX debut.
Watch Screwing Wall Street:The Arrangement Finders IPO now on DVD or Video-on-Demand.