The Seth Rogen-James Franco joint The Interview was all over the news in November-December 2014. Sony Pictures liked the film enough to give it a prestige Christmas Day opening. North Korea got pissed off, since the film depicts an attempted assassination of its Cartman-lookalike glorious leader Kim Jong Un. NK ops hacked Sony and released embarrassing documents. Then NK threatened terrorist attacks against theaters showing the movie. Cowardly large theater chains refused to show the film. Sony ended up releasing the film on video-on-demand. A few hundred brave indie theaters showed the film.
When all that was happening, Hustler announced a ripped-from-the-headlines porn parody, to be directed by Will Ryder.
And now it's here: This Ain't The Interview XXX: This Is A Parody. Click through to watch the three-minute hardcore trailer at our DVD store.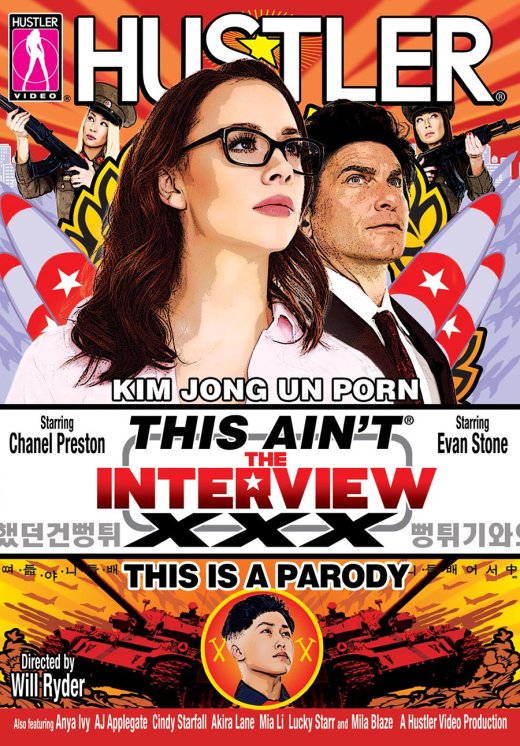 You can also stream This Ain't The Interview XXX in its entirety now at Hustler Parodies.
Evan Stone plays the James Franco role (talk show host Dave Skylar), while Chanel Preston plays the Seth Rogen role (the talk show producer).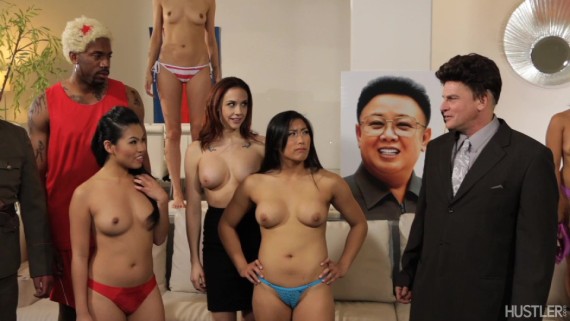 Yeah, you read that right — Chanel Preston plays Seth Rogen.
Jovan Jordan wears a crazy wig to play Dennis Rodman. (Jovan Jordan previously played L.A. Clippers superstar "Chris" in the Donald Sterling cuckold porn parody. Guess he's the go-to guy for porn parody basketball stars.)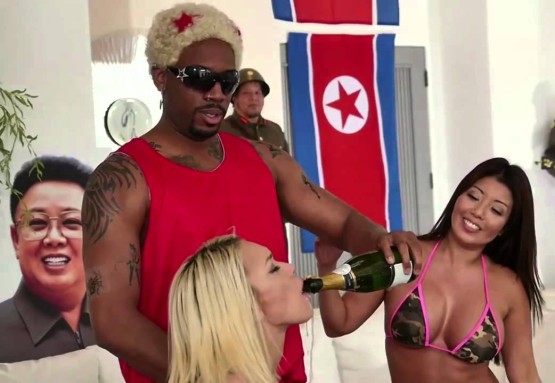 Also starring A.J. Applegate, Anya Ivy, Cindy Starfall, Mia Li, Lucky Starr, Mila Blaze, Angelina Chung and Akira Lane.
So who plays Kim Jong Un himself? That's a surprise.
As great as The Interview XXX may be, this project demonstrates once again the problem with ripped-from-the-headlines porn parodies — even at the speed of porn, the headlines have long passed by the time the porn parody gets released. Prior examples include Owner Gets Clipped about the Donald Sterling scandal, or The General Goes All In about the David Petraeus affair, or Vote For Rush about the Rush Limbaugh-Sandra Fluke kerfuffle.