Anastasia Pierce Productions continues its strange and wonderful series of superheroine cosplay fetish releases with Wonder Woman: A Fetish Parody.
This release collects three scenes running 25-30 minutes apiece, each featuring Anastasia Pierce as Wonder Woman in exquisite peril. The box promises "Peril, Drama, Bondage, Girl-Girl, Strap-on, Blackmail, Humiliation, Domination, Forced Orgasm". The scene breakdown runs:
(Scene 1) Wonder Woman Blackmailed in Vegas
Diana Prince, aka Wonder Woman, has booked a gig providing security for a Danish baroness (!!!), but she has a few hours to relax beforehand in her Vegas hotel room. Zowie, someone has placed hidden cameras in the room and blackmails WW into performing ever kinkier self-pleasuring and self-bondage acts.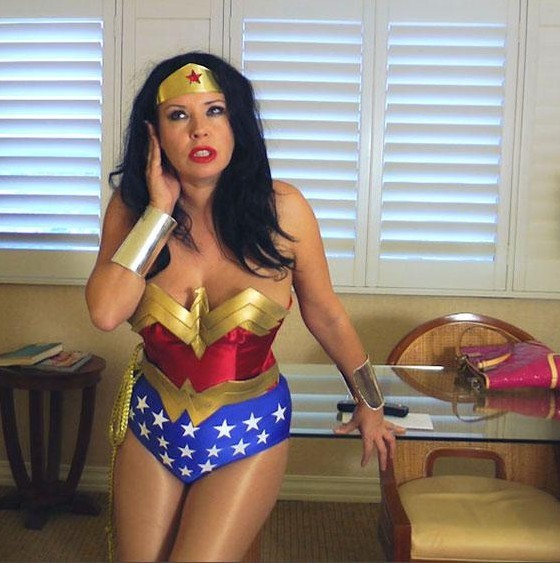 (Scene 2) Miss Robin Gone Rogue vs Wonder Woman
Co-starring Carissa Montgomery as Robin, who turns villain and manages to tie up Wonder Woman with her own golden lasso. Humiliation, domination, boot-licking, stripping, Polaroid-snapping and strap-on sex ensue. (There was a female Robin in the comics for many years, but this particular crossover story line is completely original.)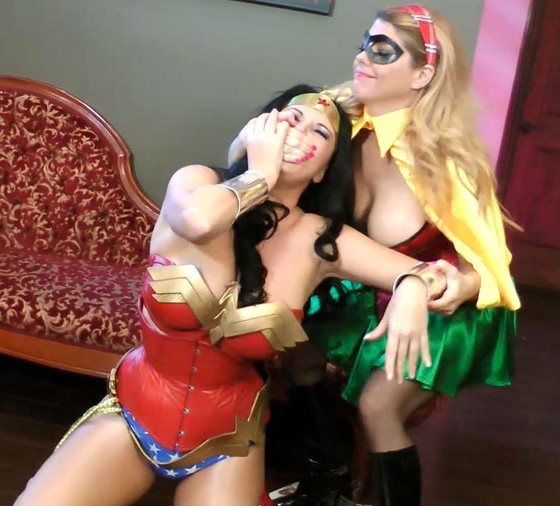 (Scene 3) Wonder Woman & the Art Gallery
Kendra James plays a wealthy art collector who invites Wonder Woman to her gallery, then uses mind control to turn the superheroine into a helpless living statue. (Mind control and hypnosis scenarios have long been a staple of the "superheroines in peril" genre.)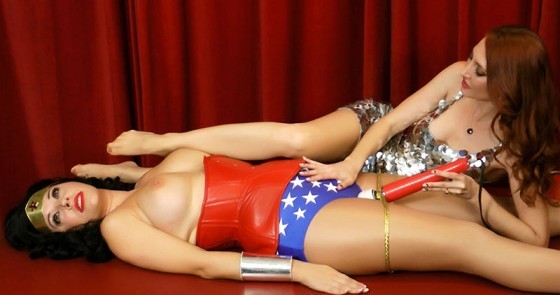 Other recent parody releases from Anastasia Pierce and friends include:
Scarlet Witch vs Black Widow and Batwoman
The Black Cat vs Batwoman
Scarlet Witch vs Ms. Marvel and Spider-Woman
Pierce has released more cosplay fetish scenes at her clips4sale store recently. Heroines suffering and/or inflicting peril include Catwoman, Harley Quinn, Black Cat, Poison Ivy, Princess Leia, and of course more Wonder Woman. So hopefully we can expect more DVD & video-on-demand releases throughout 2015. Hooray!