Basketball season is over, Donald Sterling is no longer nightly news and comedy fodder, and Smash Pictures presents Owner Gets Clipped, its XXX parody reenactment of the Donald Sterling racism debacle.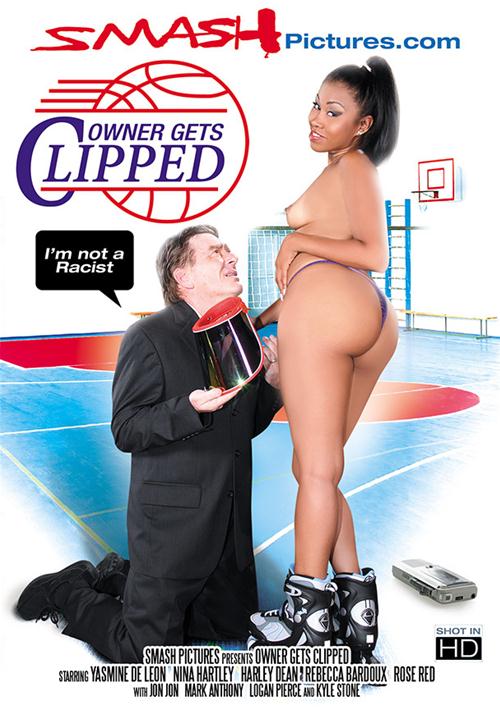 That's the problem with most "ripped from the headlines" porn parodies — even at the speedy pace of porn production, the scandal has faded by the time the XXX version gets released. Smash director Jim Powers cast, shot, assembled and released Owner Gets Clipped within nine weeks of the first TMZ newsflash, which is pretty damn impressive, but it still feels like old news.
There's no SFW trailer, but GameLink has a hardcore trailer. The fake "20/40" interview with "Barbara Waba" (played by porn legend Rebecca Bardoux) is actually pretty funny.
Here's the sex scene breakdown:
(1) Racist old coot team owner Donald Sperming (Kyle Stone) with mistress Z (Yasmine De Leon).
(2) Mrs Sperming (Nina Hartley) has her own fling with one of the team's players (Jon Jon).
(3) Z gets it on with another famous basketball player (Mark Anthony).
(4) Donald gets it on with another black mistress (Harley Dean).
(5) Mrs Sperming and Z settle their differences.
The pornsite Cuckold Sessions debuted its own cuckold-themed Donald Sterling porn parody a month ago. That parody was just one long scene released online, which allowed them to strike more quickly.