The Blair Witch Project was a mindboggling success in the summer of 1999. Made for less than $100,000, it ended up grossing $250 million. Fifteen years later, the Hollywood studios and wannabes and film students continue mimicking its formula.
Not surprisingly, there have been many porn parodies over the years. Among the first was The Morgan Sex Project, released by Wicked in fall of 1999, directed by and starring Jonathan Morgan.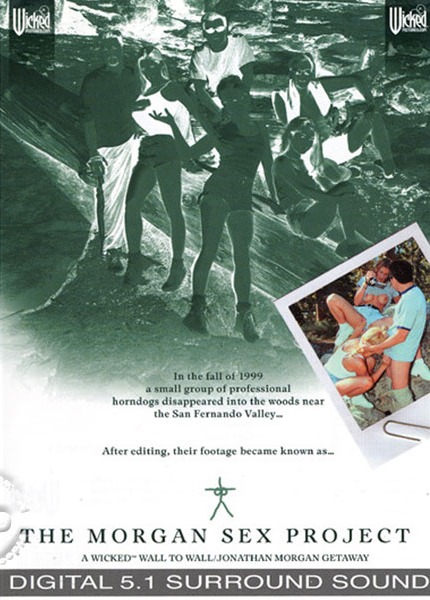 The premise: Morgan and friends (fellow pornstars T.J. Hart, Alexa Rae, Leanni Lei, Ian Daniels, Brad Armstrong) hop in an RV and go have sex in the woods. Sometimes they just have sex in the RV.
Apparently it was popular, because Morgan and Wicked churned out five sequels in 2000-2001.
The Morgan Sex Project 2 added Amber Michaels, Sydnee Steele, April Flowers and Evan Stone for another RV road trip. This time they didn't even bother having sex outdoors and just stayed in the RV.
The Morgan Sex Project 3 added Ryan Conner, Rachel Moore and Lola Vargas for vacation sex on a boat and on the beach, which frankly sounds much more fun than the RV in the woods.
The Morgan Sex Project 4 added Alexandra Quinn, Kelsey Heart, Friday and Randy Spears. This time Morgan and friends supposedly "take to the slopes" for some skiing, though the sex scenes all took place in the RV (which must have been starting to smell a bit funky at this point) or a cheap motel room.
For The Morgan Sex Project 5 and The Morgan Sex Project 6, Inari Vachs, Jenna Haze, Sydnee Steele, Kaylynn, Krystal Steal and the guys went on vacation in Hawaii. For the final installment, they shot a sex scene in green-tinted night vision as tribute to the original Blair Witch Project.