The much-anticipated Amazing Spider-Man 2 hits theaters tomorrow. Vivid is ready to swing in its wake with Spiderman XXX 2: An Axel Braun Parody, now available in the Vivid.com subscribers area.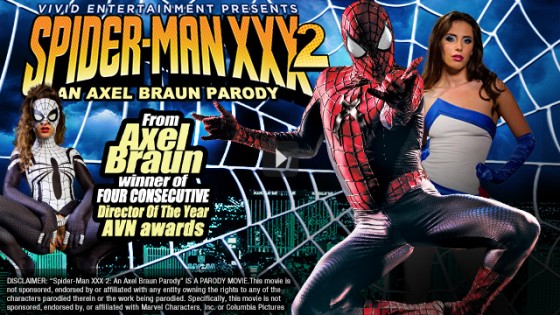 Plot summary straight from the source:
The Spider-Man XXX 2 adult parody begins in New York City's Hell's Kitchen where a streetwalker drags a customer into an alley to earn a little cash, but they're interrupted by a trio with knives. With Spider-Man temporarily in Las Vegas, it's up to Daredevil to save the day. Meanwhile, the sexual adventures that Spidey has in Sin City involve protecting the Cosmic Cube from an AIM splinter cell, saving a busload of Elvis impersonators from a hijacking and trying to deal with the arrogant, overly theatrical and mind-controlling Mysterio. Luckily, our favorite wall-crawler gets some erotic help from Arachne and Power Woman … in more ways than one.
The cast and character breakdown:
Xander Corvus – Spider-Man
Dani Daniels – Arachne
Sarah Shevon – Betty Brant
Casey Calvert – Power Woman
Veruca James – Sasha Kravenoff
Nicki Hunter – Madame Web
Giovanni Francesco – Mysterio
Pre-orders of Spider-Man XXX 2: An Axel Braun Parody on DVD are open in our store. It should ship on Tuesday, May 13, 2014.