This is pretty quick turnaround time even for the porn biz. Four months after American Hustle hit theaters, three months after it received ten Oscar nominations, one month after it lost in every category, the film gets the porn parody treatment from Will Ryder in American Hustle: XXX Porn Parody.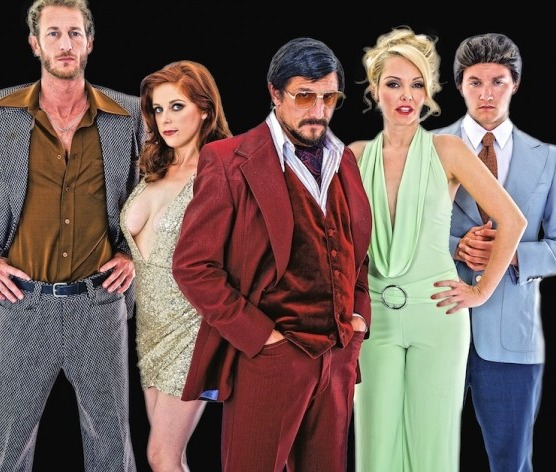 This project makes perfect sense for Will Ryder. His campy parodies of 1970s and 1980s TV shows — The Brady Bunch, The Partridge Family, Howard Cosell-era Monday Night Football, Bionic Woman & the Six Million Dollar Man (crossover!), Charlie's Angels — are known for their playful, spot-on recreations of period costumes, hairstyles and design. The real American Hustle likewise had a blast recreating 1970s costumes, hairstyles and design. It's a groovy match made in heaven.
Starring Penny Pax (in the Amy Adams role), Aaliyah Love (in the Jennifer Lawrence role), Tommy Gunn (in the Christian Bale role), Ryan McClain (in the Bradley Cooper role), Luna Star, Rio Lee, Carter Cruise and Mia Austin.
One source lists a release date of April 16, while another source says "sometime this summer". Our DVD store has American Hustle XXX available for pre-order, but we're not really sure when it will ship. Smash Pictures sometimes debuts new releases on video-on-demand first, so watch our online Porn Parody Theater.