Remember Miley Cyrus and her song "Wrecking Ball" and the video where she swung on a wrecking ball in her underwear?
Pornographers are hoping you remember, because there are two Miley Cyrus porn parodies slated for release this week, both riffing on that "Wrecking Ball" video. Both feature pornstar Miley May, who bears some resemblance to the more famous Miley.
Devil's Film gifts us Molly's Wrecking Ballz: A XXX Parody. They did a pretty good job matching the decor, hairstyle, underwear and boots from the original.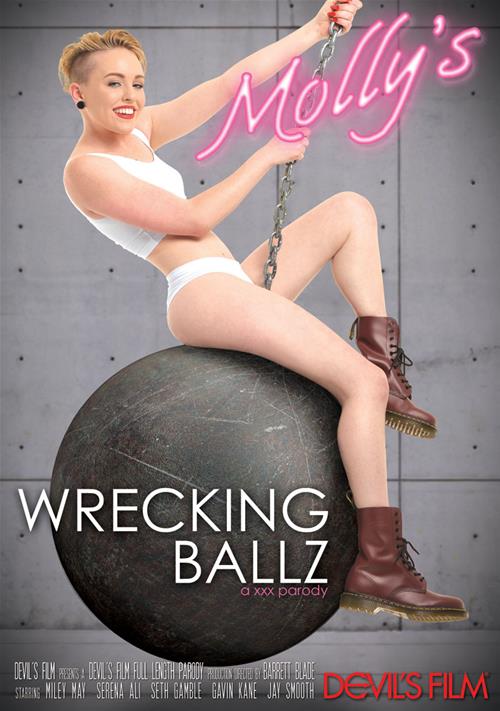 Breathless back cover blurb: "Meet Molly, America's favorite stoner who's begging for you to bone her! When this pill-popping party princess isn't busy getting baked on bong loads, she's trying to fill her grill with something other than drugs! She's got enough chemicals inside her body to sanitize a port-a-potty but she still loves to twerk it while you jerk it! Never mind that she can't keep her eyes open and legs closed at the same time she's losing fans faster than she's losing self respect! Just make sure you don't touch that wrecking ball after she's done with it!" Yikes, calm down. Directed by Barrett Blade.
In the same vein, some fly-by-night outfit called Illicit Behavior presents World Class Wrecking Crew: A Gangbang Movie. The DVD includes two long MMMMF scenes, one starring Miley May and another starring Jenna Justine. The "crew" consists of Evan Stone, Nick Manning, Alan Stafford and Dane Cross.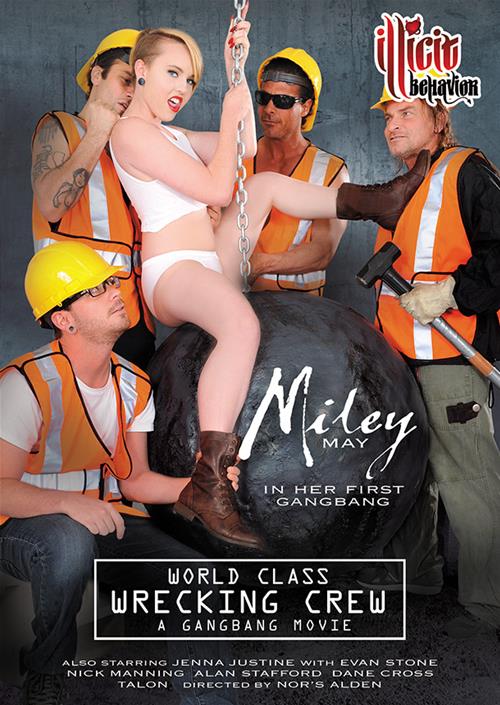 Many years ago, Hustler's Untrue Hollywood Stories: Miley Cyrus' 18th Birthday gave her the lookalike porn parody treatment first.