Hustler has made a fortune off its series of Sarah Palin lookalike porno flicks. Now it's the Democrats' turn in White House Orgy, new in our store today.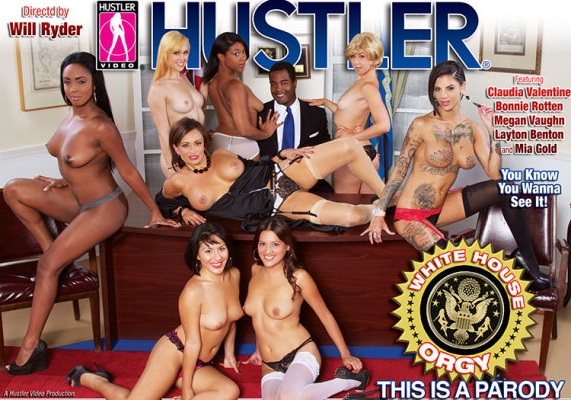 Tyler Knight plays fake president Barack Obama, seen here in the Oval Office surrounded by eight enthusiastic interns. Is that offensive? Yeah, probably. The female cast includes Bonnie Rotten, Megan Vaughn, Mia Gold, Claudia Valentine and Layton Benton.
Directed by the great Will Ryder.
Judging from the back cover disclaimer, White House Orgy includes XXX lookalikes of other prominent Washington figures: "This movie is not sponsored, endorsed by, or approved of in any manner by President Barack Obama, Michelle Obama, Janet Napolitano, Susan Rice, Kathleen Sebelius, Sonia Sotomayor, Joe Biden or John Kerry." Yikes.

Larry Flynt may be a Democrat, but first and foremost he's an asshole who enjoys pissing off the world. God bless him for that.