Dreamzone presents a new hardcore porn parody of Sylvester Stallone's Rambo series. The heavily-tattooed (even by porn standards) Bonnie Rotten stars as "Joan Rambone" in Rambone XXX: A Dreamzone Parody.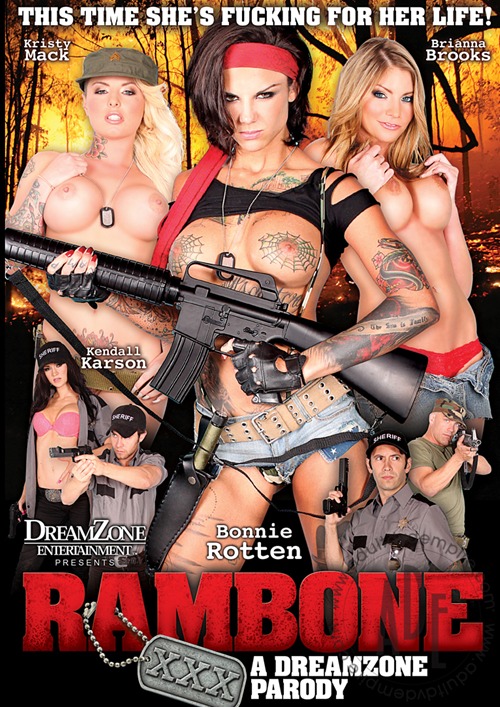 The porn parody plot closely follows First Blood (the first John Rambo movie and the only one that didn't have "Rambo" in the title). "Veteran Joan Rambone is traveling cross-country when she passes through a small town and finds herself being hassled by by the local sheriff and his deputies. They think she's just another typical drifter making her way through their quiet town. But they soon discover that Rambone is not typical at all. As the cops find themselves incapable of of handling her sexual prowess and dangerous maneuvers, they realize that hassling her was a big mistake."
The cast includes Bonnie Rotten, Christy Mack, Kendall Karson, Brianna Brooks, Seth Gamble and Tommy Pistol. The underrated Jordan Septo directs.
Not surprisingly, Rambo was a popular porn parody target in the 1980s. The mysterious Linda Chu starred in Bimbo: Hot Blood, Part 1 in 1985, followed by one lost sequel. The same year saw Rambone: The First Time, which was recently reissued on DVD by Alpha Blue. One male pornstar actually adopted the name "Dick Rambone" and starred in Rambone the Destroyer, followed by Rambone Does Hollywood (in which Rambone settles down and becomes a pimp). Finally, Peter North starred in Ramb-Ohh! in 1988.