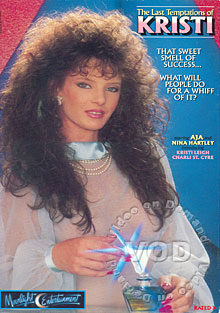 Martin Scorsese's 1988 The Last Temptation of Christ pissed off a lot of people with its supposed blasphemy. I had to walk past a holy roller picket line to see it in first run. Hardly seems like prime porn parody material.
And yet … Moonlight Entertainment went there with quickie knockoff The Last Temptation of Kristi (also 1988).
That's my new favorite porn parody title pun of all time.
The XXX plot has nothing to do with Jesus and Mary Magdalene or anything religious. Rather it's something about climbing the corporate ladder, which involves routine sex scenes in tacky 80s swinging bachelor pad sets. The cast includes Kristi Leigh (thus the title), Aja, Lynn LeMay, Nina Hartley, Charli St. Cyre, Randy West and Mike Horner.
Still, you gotta love that title. The Last Temptation of Kristi. If that didn't make you chuckle just a little, you're on the wrong site.